Q.

Could you share with us how you got to know Think!Think?

I came across Think!Think! via an Instagram post. It was really helpful when reading about the effects and actual usage since I collect and compare a lot of information regarding education on social media. After carefully reading through how Think!Think! works, I thought "This is great!" and decided to let my kids start using it.
Q.

What do you like the most about the application?

I was really impressed by the fact that Think!Think! makes it so easy for kids to learn and understand concepts and gain knowledge easily on this application, especially things that are hard to implement at home. I've never seen anything similar to Think!Think!'s content and thought it was very interesting. I was convinced by the reliability after learning that schools are also using Think!Think! as a digital learning material.
Q.

How are you using this application?

I let my kids use it as a reward everyday. I try to play Think!Think! with my kids.I'm currently using the Standard Course, allowing us to use it 3 times a day. The price is also reasonable. I feel like it is perfect because I don't need to worry about binge using or screentime. Although there are other apps out there, for my kid, the playtime restriction is probably the biggest deciding factor.
Q.

What was your kid's reaction to 3 plays per day?

She said "It's too few! I want to play more!" when she first started using Think!Think!, but has gotten used to it lately. When she wants to play for the 4th time, cute characters comes out with message saying "Playtime is over today, let's play again soon!", she would agree to it as she reads the message, gradually building a good habit of wrapping up using Think!Think! by herself.
Q.

What does the kid enjoy the most when using Think!Think!?

Breaking her own highest record. She would always get so excited when she does better than before and breaks her own record. But when she cannot do it, she would feel a little frustrated, haha. After clearing so many levels, lately the problems are getting a little difficult. Sometimes the game would end before she was able to figure out the answer, so I was debating if I should help her.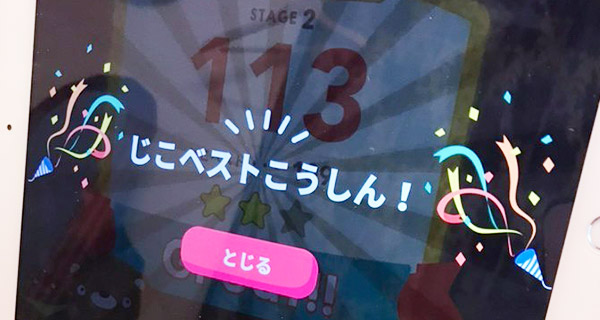 From Think!Think!
As levels go up, it's true that sometimes parents might wonder if they should help the kids when they struggle with solving some problems. At Wonderfy, we believe that to cultivate critical thinking skills, kids' motivation of "I want to solve this problem!", "I can do it!" is extremely important. It is important for them to build their ability to focus and persevere when facing challenging problems. Even when they cannot solve the problems right away, we should still encourage them to continue trying and acknowledge their effort. It doesn't have to be everyday, but when kids share their feedback, parents' support and encouragement could be very helpful to them.